About Us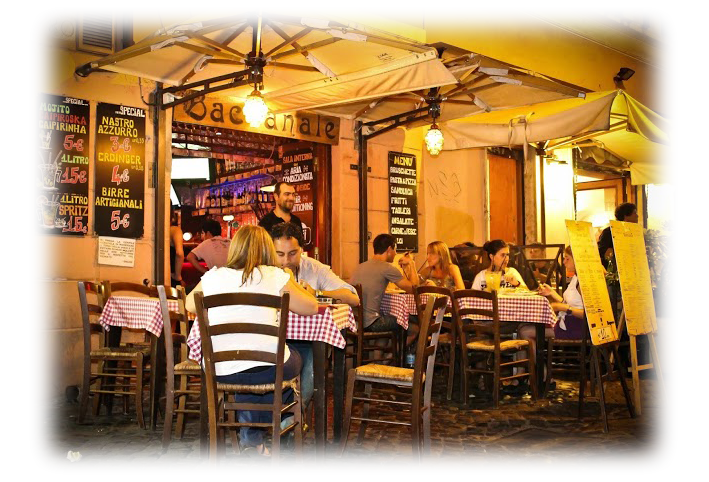 A few steps from Santa Maria in Trastevere Il Baccanale is ready to welcome you every day from 11am to 2am.
The extensive menu offers a variety of typical Italian products, from pasta to pizza, but for the more sophisticated there are specialties of meat and fish, to be introduced with a delicious bruschetta as an appetizer or the appealing cold cuts and cheeses all with a nice draft beer or a glass of wine.
For those who do not want to spend a lot you can take advantage of our special menu which includes: an appetizer, an entrée and a drink starting from 10€. Those who prefer a quick snack can choose from our different kinds of burgers or sandwiches.
If after a day of work or during a walk through the streets of Trastevere you'd fancy a bit of relax, Il Baccanale offers a wide selection of drinks: more than 8 varieties of beer on tap an a wide selection of bottled beers always served chilled. The more passionate can choose from more than 30 brands of selected rum, 25 types of whiskey and 15 of vodka.
But surely what makes Il Baccanale unique and a great place to spend a beautiful and fun evening with friends are the 1 liter pitchers of Mojito, Caipiriña and Caipiroska for only 15€, and for larger groups or simply more daring people , you can order the variant of 4 liter pitcher for 50€! For the fans of Italian aperitif, Il Baccanale has thought of them, offering a 1 liter pitcher of Spritz for 15€, so you can have a classic cocktail but with a very original style!
Also if you like sports you can't miss our appointments with national and world events, all broadcast on the screens distributed throughout the restaurant: Italian, European and worldwide football, Moto gp, rugby, Olympics… and many others.
In other words at Il Baccanale in Trastevere there is something for everyone and for every taste. Moreover if you have an original request, don't hesitate to ask our staff: they'll have plenty of creativity and availability to make your stay particularly pleasant and unique!
See you there!